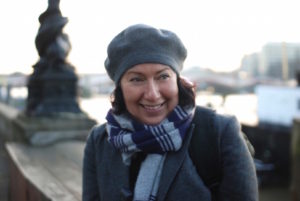 Rachel Lichtenstein is a British artist, writer and curator who is internationally known for her books, multi-media projects and artworks that examine place, memory and Jewish identity. She currently combines writing and research with a post as Reader in the English and History departments at MMU (Manchester Met University) where she also co-directs the Centre for Place Writing. Her latest projects involves deep research into Jewish settlement in East London, Manchester and the Caribbean.
Her most recent book, Estuary: Out from London to the Sea was published by Hamish Hamilton in September 2016 and longlisted for the Gordon Burns Prize. In 2012 Diamond Street: The Hidden World of Hatton Garden, was published to much critical acclaim. The first book in the street series, On Brick Lane (2007), was shortlisted for the Ondaatje prize. Her first book, Rodinsky's Room (1999, co-written with Iain Sinclair), began as a personal quest and evolved into a compelling psycho-geographical detective story. Now considered a classic of its genre, it has been translated into five languages. Rachel is also the author of A Little Dust Whispered, Keeping Pace: Older Women of the East End and Rodinsky's Whitechapel.
Her work has received extensive coverage in the national print and broadcast media. She has also contributed to a number of anthologies and publications and regularly speaks at events, literary festivals, conferences and other institutions.
Lichtenstein trained as a sculptor and her artwork has been widely exhibited both in the UK and internationally. Venues include Whitechapel Gallery, British Library, Barbican Art Gallery, Woodstreet Galleries (Pittsburgh) & the Jerusalem Theatre (Israel). She has curated and hosted Shorelines: Literary Festival of the Sea since 2011 and in 2016 she curated the literary programme for a major new multi-disciplinary festival Estuary as well as curating events for The Spitalfields Immigration Festival. She has also curated and hosted many other literary and Salon events alongside numerous exhibitions. Her oral history collections can be found in many London archives.